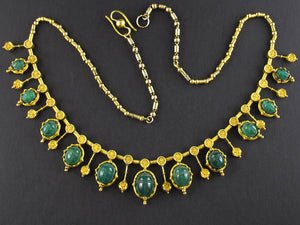 Victorian egyptian revival yellow gold necklace with scarabs.
€0,00

€0,00
Tax included.
---
---
A yellow gold (probably 20 carats) and chrysoprase scarab fringe necklace. In Egyptian Revival style with gold granulation and filegree. Attributed to Giacinto Melillo a pupil of Castellani, 1880 c.a. 40-50 cm
Collana Retour d'Egypte in oro giallo con scarabei in crisopraso. Realizzata con granulazione e filigrana d'oro. Attribuibile a Giacinto Melillo allievo di Castellani, 1880 c.a. 40-50 cm 
Throughout history, a passion for Egypt has been a recurring theme. By the time Napoléon Bonaparte stormed Egypt at the end of the eighteenth century, Egyptomania had already reached the level of obsession in France. Egyptian décor began to appear in all facets of the decorative arts in France, propelled in part by Emperor Napoléon's command. In 1833 an obelisk from the Luxor Temple, gifted to the French by Pasha Muhammed Ali, arrived in Paris. From 1859-1869, the Suez Canal was under construction and the French fascination for the project was so pervasive that the Paris Exposition of 1867 featured Egyptian-inspired jewels from Boucheron, Mellerio, Baugrand, and others. Empress Eugénie herself (wife of Napoléon III) requested jewels in the Egyptian taste from her court jeweler, Lemonnier (most famously an aigrette with a lotus flower and bird's wings). The thirst for Egyptian-themed jewels soon spread across the continent and jewelers such as Giuliano, Castellani, and Fontenay included some Egyptian revival jewels alongside their other archaeological and revival styles.
La passione per l'Antico Egitto ha attraversato la storia a partire dalla Campagna Napoleonica della fine del XVIII Secolo. L'Egittomania pervase le Arti Decorative in Francia in tutte le sue sfaccettature. Obelischi dei templi di Luxor e Karnak adornavano le piazze di Parigi, Roma e Londra. Il canale di Suez fu costruito tra il 1859 ed il 1869 e il fascino del progetto si riflesse sull'Esposizione di Parigi del 1867 dove le grandi Maison di gioiellieri come Boucheron, Mellerio e Beaugrand esposero gioielli ispirati all'Egitto. L'imperatrice Eugenia ordinò diversi gioielli in stile Retour D'Egypte al gioielliere di corte Lemonnier e la sete di gioielli in stile egiziano presto si espanse nel continente, tanto che gioiellieri come Castellani, Giuliano e Fontenay ne realizzarono insieme alle loro creazioni in stile archeologico. 
---
We Also Recommend